"What are all these letters?"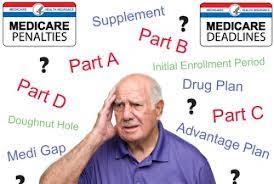 Part A is your hospital insurance.  This part helps with costs associated with inpatient hospital stays and skilled nursing facility stays.  Home health and hospice care are also included under Medicare Part A.
For most individuals, there is no pay for Medicare Part A.  Typically, there is no monthly premium for Medicare Part A (Hospital Insurance) coverage, because the policy holder paid Medicare taxes for a certain amount of time while working.  If you don't qualify for free Medicare Part A, there is an option to purchase it.  The premium depends on the length of time you worked.
Part B is your outpatient medical coverage.  Coverage includes all other aspects of an inpatient hospital stay.  Part B covers doctor's visits (including doctors who treat you in the hospital) as well as services such as lab work, preventive services, and outpatient surgeries.  Cancer treatments and kidney dialysis are a couple of major services that fall under Medicare Part B.
Unlike Part A, you will pay a monthly premium for Part B.  Social Security sets the cost of Medicare Part B and determined by your income bracket. Therefore, this amount can change from year to year.  The higher your income bracket, the more you will pay for your Part B.  Determining the amount you pay is based on your adjusted gross income as reported to the IRS. More information concerning the cost of Part B  can be find by clicking Part B costs.
The standard Part B premium amount in 2023 is $164.90. Most people pay the standard Part B premium amount. If your modified adjusted gross income as reported on your IRS tax return from 2 years ago is above a certain amount, you'll pay the standard premium amount and an Income Related Monthly Adjustment Amount (IRMAA). IRMAA is an extra charge added to your premium.
Medicare Part C is also known as Medicare Advantage.   Coverage of this type is offered by private insurance companies.  The premium you pay to be enrolled in an Advantage plan depends on several factors including the carrier, where you live, and the coverage plan that you select.
In order to enroll in an Advantage plan (Part C), you must be enrolled in both Medicare Part A and B first.  Once enrolled in Medicare Part C, your coverage will be an Advantage plan and NOT Medicare Part A and B.  You will still have to pay your Medicare Part B premiums, even though you no longer have coverage under Part B.  This can be confusing, but we are to assist you with the entire Medicare process.
Enrolling in Part C is completely optional and voluntary.  If you prefer to get your healthcare coverage from Original Medicare, then you would NOT enroll in Part C.  Many people will get their coverage through Original Medicare (Part A and Part B) then supplement this coverage with a Medicare Supplement (Medigap) plan.
Medicare Part D is often referred to as prescription drug coverage or a drug plan.  This piece of Medicare assists with the cost of prescription medications.
Sometimes call the Drug Plan, Medicare Part D covers prescription drugs from your pharmacy or through mail order.  The number of Part D plans varies from state to state.  Most states have approximately 30 different plans.  You choose which plan provides the best coverage for your pharmaceutical needs.  Talk to someone who is knowledgeable about drug plans because they can provide an analysis of your options before selecting your plan.  This will assist you in making an educated decision possibly saving you thousands of dollars per year.  Enrolling in a plan is easy, but determining which plan is best for your needs is extremely important.