Medicare 2024
 Your Cost for Medicare.  Will it Change?
Covers inpatient hospitals, skilled nursing facilities, hospice, inpatient rehabilitation, and some home health care services. Thankfully, most Medicare beneficiaries
do not
have a
Part A
premium since they have 40 or more quarters of employment.  Forty Quarters is the equivalent to ten years.
For a stay in a skilled nursing facility, individuals will pay $204 per day for days 21 through 100.  This extended care service was $200 per day for 2023.
Covers services such as doctors' office visits, outpatient hospital care , and durable medical equipment.  Unfortunately,
Medicare Part B
has a monthly premium.  Premiums, deductible, and the coinsurance rates are determined according to the Social Security Act.
The standard monthly premium for
Medicare Part B
 will be
$174.70
for
2024.
This is up $9.80 from the $164.90 in 2023. The annual deductible for
Medicare Part B
 will be
$240
in
2024
.   Deductible amount for 2023 was set at $226.
What is IRMAA?
I
ncome
R
elated
M
onthly
A
djustment
A
mount (
IRMAA
) is an additional premium that people with income above a certain amount must pay on top of the standard
Medicare Part B
and
Part D
premiums. Determination of IRMAA is done every year and is based on your tax return from two years prior.
Your IRMAA for 2024 is based on your 2022 tax returns, while
2023 IRMAA
was based on year 2021. If your income is higher or lower from year to year, your IRMAA status may change. You will receive a letter if you   must pay IRMAA.  Outlined in the letter will be your increased premium amount and the income used to make the decision.
BRACKETS/PREMIUMS –
Medicare PART B – Premiums Based on 2022 Tax Return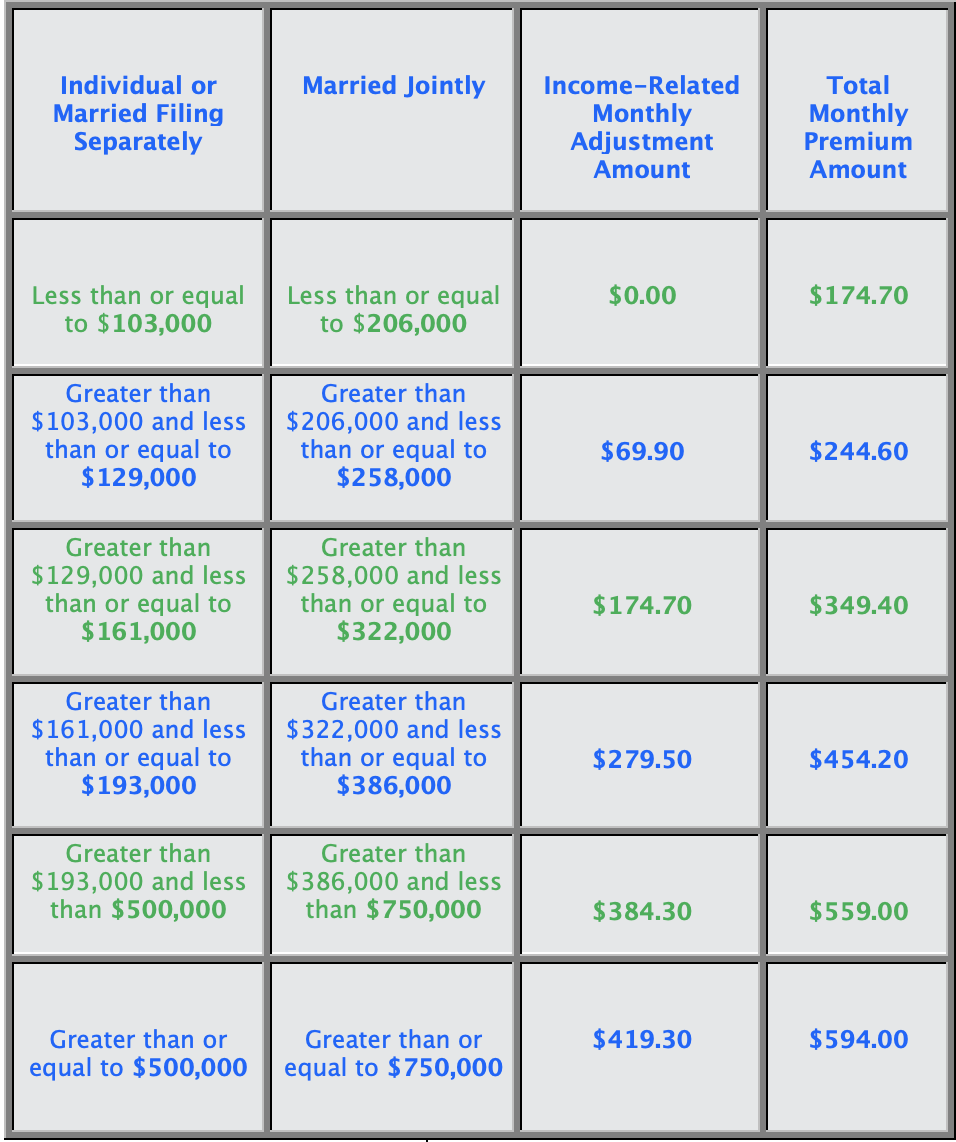 IRMAA for Medicare PART D – Based on Year 2022 Tax Return
Prescription plans pricing vary.  A person would add the appropriate IRMAA Amount to the  
monthly cost of  their prescription plan.